He Heard Hannah
By Lynnette Kraft with Courtney Becker
He Heard Hannah Website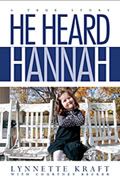 In an amazing true story, two lives are inexorably interwoven. Courtney Becker, a 911 dispatcher, took a call on November 19th, 2004. That call for help resulted in a saved life, but not the life you might expect. He Heard Hannah is an incredibly emotional, yet inspiring story of spiritual perseverance and finding hope in times of despair. This true story proves that miracles do happen, tragedy can lead to beauty, and our most painful moments can be overcome with the hope of a Savior.
Order a signed copy by adding to cart. 
[wp_cart:He Heard Hannah:price:$13.00:shipping:$1.50:end] (US Only, Please)
Or Order From Amazon Here:
He Heard Hannah